With the Behringer SF300 Super Fuzz Guitar Effect Pedall you can recreate the whole variety of famous fuzz tones of the '60s and '70s. Featuring 3 different modes for classic fuzz, grunge and hi gain boost. Controls include a dedicated gain, a 2-band EQ and a master level control. By selecting the various fuzz styles using the mode control and adjusting the other settings it is possible to create a wide range of blues, crunch and hard rock tones. Behringer fx pedals are at the low end of the price scale for guitar pedals however are functional and can be used as a first step by a beginner into the world of guitar effects. Once you have found your style and tone try some of the boutique fuzz fx pedals and boutique distortion fx pedals as used by famous players.
Review options, compare prices, suppliers and special offers for the Behringer SF300 Super Fuzz Guitar Effect Pedal. The web site has many types of guitar effect pedal to consider including high quality boutique guitar effect pedals as used by famous players.
Buy Behringer SF300 Super Fuzz Guitar Effect Pedal
£24.99
in stock
7 new from £24.99
1 used from £20.00
as of 04/05/2021 09:00 ⓘ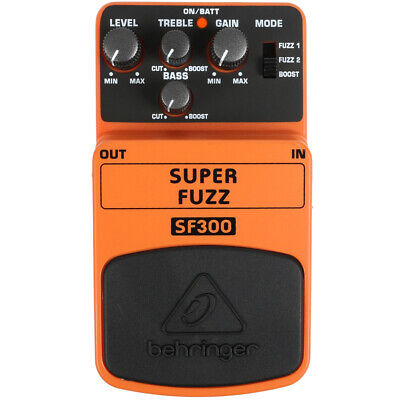 By accessing lots of online stores our price review system is able to create a price list making it possible to see differences in the prices and any current savings.
About Guitar Fuzz Effect Pedals
A guitar fuzz pedal takes the input guitar signal chain, boosts the gain and then generates a "fuzzy", "growling", or "gritty" tone. A guitar fuzz box can be used to replicate an over driven valve guitar amplifier. Guitarists playing electric blues originally obtained an distorted sound by turning up their vintage valve guitar amps to very high volumes, which caused the signal to distort and break up. Fuzz pedals were developed to replicate this sound without the need for high volume and are now a key part of many guitar styles including blues, rock, punk rock and heavy metal music.
Prices range from very cheap to expensive however boutique fuzz pedal designs which are made to a higher specification and quality are the go to pedal for famous guitar players and are common on famous guitar player pedal boards. The price will reflect the quality of the sound produced. Some of the most popular boutique fuzz pedals to review, compare prices and buy for your guitar rig are the Way Huge Russian Pickle Fuzz, the US made Fulltone Mas Malo Fuzz, the Josh Scott designed JHS Pollinator Germanium Fuzz, the Keeley Loomer Fuzz Reverb, the Electro-Harmonix Satisfaction Fuzz and the UK made Fredric Effects Dresden Synth Fuzz. Cheaper fuzz pedal models worth a quick review are the JOYO Purple Storm Fuzz and the Mooer Triangle Buff Fuzz.
More Behringer Guitar Effect Pedals 
About Behringer Effect Pedals
The Behringer SF300 Super Fuzz Guitar Effect Pedal is one of many types of Behringer guitar pedals that are available to review and buy online. The Behringer guitar pedals range is extensive, with many different effect types included, you can review these by using the link below to all the Behringer pedals. Behringer make lots of different guitar related gear including a range of Behringer guitar amps. The Behringer products are available at low prices and are worth reviewing. Behringer is an audio equipment company founded by Uli Behringer in 1989. In 2007, Behringer was listed as the 14th largest manufacturer of music products. Behringer has a sales network in over 130 countries around the world. Products were originally manufactured in Germany however now they are made in China. Behringer is owned by Music Group which also owns other companies including Midas, Klark Teknik, Bugera, Turbosound and Eurotec. Review the full list of Behringer guitar pedals by using the link below, you can also use the search feature above to look for your favorite Behringer product.
Also See These Product Listings