The BlackStar LT-BOOST Guitar Signal Booster Pedal is an extremely flexible pedal and can be used into a clean amp as a volume boost, an additional equalisation stage, or to drive your amplifier into dynamic overdrive. The unique clipping circuit has been designed to behave in the same way as Blackstar's HT pedals and the simple layout makes it easy to use. Blackstar's patent-applied-for clipping circuit delivers amazing valve-like guitar tone and compression for a wide variety of playing styles. This guitar booster pedal features a simple and effective layout including Gain, Bass and Treble controls. Powered via 9v or power supply.
Review options, compare prices, suppliers and special offers for the BlackStar LT-BOOST Guitar Signal Booster Pedal below. There are also more blackstar guitar effect pedals and blackstar guitar amplifiers.
Buy BlackStar LT-BOOST Guitar Signal Booster Pedal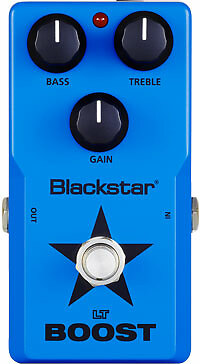 Review the product details and prices. You can place your order direct from this website, just click on the buy button to be taken to the merchant page where you can review the sale terms and arrange delivery. You can also review the last price reductions and sale items by visiting the price reductions page as shown in the top menu. Our online review system collects together all the current sale items and displays the guitar products in a list. By accessing lots of online stores our price review system is able to create a price list making it possible to see differences in the prices and any current savings. The web site has many types of guitar effect pedal to consider including high quality boutique guitar effect pedals as used by famous players.
About Boost Driver Guitar Pedals
A boost pedal or driver pedal the simplest of all gain-based guitar pedals, boosters do exactly what they say. Taking the signal from the guitar pick up and boosting the volume of the signal. A boost pedal acts like an extra gain stage on the amplifier input. If used correctly a booster pedal can be a very versatile addition to your guitar pedal board adding extra flavor to the guitar signal chain and overall sound. Guitar booster pedals were among the earliest effect pedals to be launched, first being marketed as treble boosters. In the 60s, many famous players used treble boosters to push their valve driven Marshall guitar amps and Vox guitar amps to achieve a smooth, natural-sounding distortion. Afterwards overdrive pedals and distortion pedals were introduced giving extra functionality. Booster pedals have been used by players like Eric Clapton,  Jimmy Page and Brian May.
Chose your booster pedal wisely, cheap is not always the way to go as cheap booster pedals can result in a harsh distorted sound. Consider a mid-priced or more expensive boutique booster pedals as made by boutique pedal makers have extra circuitry to shape the complete sound. include the Keeley D&M Drive Pedal, the Fulltone OCD Obsessive Compulsive Drive, the Blackstar HT Dual Booster Pedal, the sleek looking Danelectro Billion Dollar Boost and the Electro Harmonix Screaming Bird Pedal.
More BlackStar Guitar Effect Pedals:
About BlackStar Effect Pedals
The BlackStar LT-BOOST Guitar Signal Booster Pedal is one of many types of Blackstar Guitar Effect Pedals that are available to review and buy online from internet music stores. The BlackStar guitar pedal effects range includes all styles of effect. BlackStar Amplification is a UK-based producer of guitar amplifiers and effects pedal and rack units. Effects are manufacturered at factories around the World. Blackstar's award-winning, valve-driven HT pedals are a key part of the company's success and grace the pedalboards of professional players around the globe. The Blackstar LT range is a series of 5 compact boost, overdrive and distortion pedals tonally derived from the award-winning HT Pedals range. The clipping circuit delivers amazing valve-like tonal performance and valve-like responsiveness for a wide variety of playing styles. Featuring rugged metal construction for durability. In addition, the LT DIST offers the lowest cost option ever for players who want to get their hands on Blackstar's patented ISF control. The revolutionary, tone shaping ISF (Infinite Shape Feature) will redefine your tonal expectations. The HT Range of award-winning valve overdrive pedals feature true high voltage (300V) circuitry. View the full list of BlackStar Guitar Effect Pedals.
More Blackstar Guitar Gear