The CP-38 Caline Lucky 7 Seven Modes Modulation Guitar Effect Pedal provides you with 7 different styles of guitar modulation effects. By using the selector you can sample a wide range of great sounding effects, all from one single pedal. Effects included are Detune, Chorus, Flanger, Phaser, Tremolo, Vibe and U-Vibe. These are adjusted using the Depth, Mix and Time controls. While this may not be a dedicated pedal it does give a beginner a chance to sample the different styles of modulation whithout buying lots of effect pedals. Despite being a cheap guitar effect pedal the CP-38 Caline Lucky 7 Seven Modes is durable, has true bypass switching and works off either a 9v battery or guitar pedal power supply.
Caline are well known for producing clone guitar effect pedals and to highlight some of these we have created our caline effect pedal clone list. Clone effect pedals give guitar players to sample the tones of famous and vintage pedals at a fraction of the cost. Review options, compare prices, suppliers and special offers for the CP-38 Caline Lucky 7 Seven Modes Modulation Guitar Effect Pedal below. There are many Caline guitar pedals to review and consider buying in the range with all the popular guitar effects covered like digital delay guitar pedals, distortion guitar pedals, fuzz guitar pedals and more.
Buy CP-38 Caline Lucky 7 Seven Modes Modulation Guitar Effect Pedal
£29.99
in stock
5 new from £29.99
as of 04/08/2021 01:19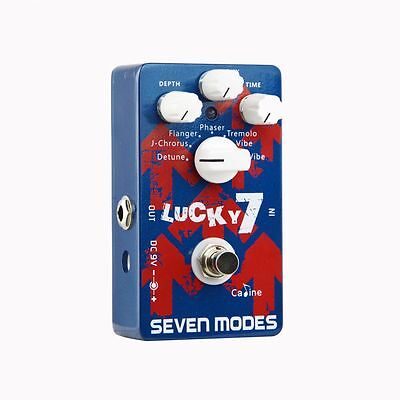 Review the product details and prices. You can place your order direct from this website, just click on the buy button to be taken to the merchant page where you can review the sale terms and arrange delivery. You can also review the last price reductions and sale items by visiting the price reductions page as shown in the top menu. Our online review system collects together all the current sale items and displays the guitar products in a list. By accessing lots of online stores our price review system is able to create a price list making it possible to see differences in the prices and any current savings. The web site has many types of guitar effect pedal to consider including high quality boutique guitar effect pedals as used by famous players.
About Guitar Modulation Pedals
A guitar modulation pedal will typically include various other modulation effects within the same single package. A modulation pedal will normally include slimmed down versions of the flanger effect, the chorus effect and the phaser effect. Some high spec versions will include a vibe effect, tremolo effect and possibly a rotary speaker. Cheap versions of these pedals can be a bit of a novelty and only give a new guitarist access to a wide range of effects without spending a fortune on separate pedals. Once you have decided which effect you prefer it is best then to buy a good quality version of the single effect. There are a number of boutique modulation pedals to consider that are manufactured to studio quality specifications.
Boutique modulation pedals to consider include the Strymon Mobius Modulation, the Pigtronix Ringmaster Analog Multiplier, the DigiTech FreqOut Feedback Creator  and the Keeley Dark Side Pedal that emulates the sounds from the classic Pink Floyd album. Cheaper models are the Electro Harmonix Ravish Sitar and the the NUX Monterey Vibe Pedal.
More Caline Guitar Effect Pedals:
About Caline Guitar Effect Pedals
The CP-38 Caline Lucky 7 Modulation Pedal is one of many types of Caline Effect Pedals that are currently available on the website to review, compare prices and buy. The Caline guitar pedal brand was formed in 2010. Caline effect pedals are manufactured at the Caline Factory in Shenzhen, China. The Caline brand specialises in making low cost guitar effect pedals. The caline guitar effect pedal range is extensive and appeals to players who require a budget guitar effect pedal to perform to a reasonable standard without a hefty price tag. These pedals offer true bypass, full metal cases and represent excellent value for money. Use the link below to review the full list of Caline Guitar Effect Pedals.
Also See These Product Listings
About the YUMA GOLD Website
The YUMA GOLD website has been created by guitar players for guitar players. The main goal is to allow guitar players, and other musicians, to review, compare prices and then buy guitar gear and other music related products. By showing a range of suppliers it may be possible to save on your new guitar guitar gear. We can also test and review new guitar gear. The yumagold.co.uk website is expanding with new guitar and audio related products added daily. This includes product reviews, new product launches and guitar related news. To add content to our site review our marketing offers and use the contact form in the main menu.