The CP-43 Caline Pegasus Overdrive Guitar Effect Pedal is a clone guitar effect pedal which is based on the vintage Klon Centaur Golden. The original Centaur was a brilliant sounding overdrive guitar pedal used by many famous guitar players however but getting hold of one now is going to cost you a hell of a lot of money. That is where Caline have stepped in and produced their own clone effect pedal based on the Klon, which sounds great, but available at a fraction of the cost. It performs much the same as the original, incredibly versatile like the original the CP-43 Caline Pegasus can create a range of amazing natural sounding overdrive and distortion tones. It's very transparent when Gain is set quite low, and still sounds very smooth when cranked up higher.
There are many Caline effect pedals in the range with all the popular guitar effect types covered like digital delay pedals, distortion pedals, fuzz pedals and more. Caline are well known for producing clone guitar effect pedals and to highlight some of these we have created our caline effect pedal clone list. Clone effect pedals give guitar players to sample the tones of famous and vintage pedals at a fraction of the cost. Review options, compare prices, suppliers and special offers for the CP-43 Caline Pegasus Overdrive Guitar Effect Pedal below.
Buy CP-43 Caline Pegasus Overdrive Guitar Effect Pedal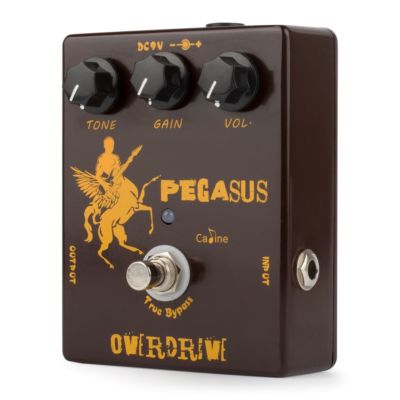 £42.95
£44.10
in stock
as of 04/08/2021 01:19
£48.07
in stock
as of 04/08/2021 01:19
Review the product details and prices. You can place your order direct from this website, just click on the buy button to be taken to the merchant page where you can review the sale terms and arrange delivery. You can also review the last price reductions and sale items by visiting the price reductions page as shown in the top menu. Our online review system collects together all the current sale items and displays the guitar products in a list. By accessing lots of online stores our price review system is able to create a price list making it possible to see differences in the prices and any current savings. The web site has many types of guitar effect pedal to consider including high quality boutique guitar effect pedals as used by famous players.
Video Review of the CP-43 Caline Pegasus Overdrive Guitar Pedal (Klon Clone)
I have included this video review below to give you an indication of the performance of the CP-43 Caline Pegasus Overdrive Guitar Pedal (Klon Clone). To play the video review just click in the centre of the image shown below. This affordable overdrive guitar pedal will have you tapping into the rock tones of famous guitar players who can afford to buy the original Golden Klon Centaur pedal, a mystical pedal that actually is not as much better than the Caline as the price tag would suggest, in my humble opinion. If you are interested in buying the CP-43 Caline Pegasus Overdrive Guitar Pedal (Klon Clone) please use the above merchant links to place your order as any sales help to pay the website management costs, also, check out some of the guitar related adverts on the site.

These guitar product video reviews tend to be created by independent guitar players, or staff at musical instrument retailers who do not have any particular allegiance to a brand so in some ways their opinions can help cut through some of the  glossy PR text that is provided by the product manufacturer. On our website we also have more guitar product reviews including guitar amplifier reviews and guitar pedal reviews that can help guide you towards that new piece of guitar gear.
About Guitar Overdrive Effect Pedals
A guitar overdrive pedal is one of the most popular guitar effect pedals used by guitarists. With this in mind there are many different brands and styles on the market ranging from very cheap Chinese made pedals to high quality boutique overdrive pedals as used by famous guitarists. No guitar pedal board will be complete without an overdrive pedal of some type being included. The quality of the overdrive effect pedal will have an affect on the guitar signal chain as it will involve an increase in gain. Using a cheap overdrive pedals noise can be a consequence. used to boost the input guitar pick up signal and recreate the sound of a vintage valve amplifier that is being used with the gain turned up to a high level. Overdrive creates broken or distorted sound with a crunch tone and is popular with blues, rock and metal guitarists. Overdrive is different to the sound generated by a distortion guitar pedal or fuzz guitar pedal and has a different tonal range.
Choose your overdrive pedal wisely, cheap overdrive pedals can result in a harsh distorted sound and an increase in noise or hum. Consider a mid-priced or more expensive boutique overdrive pedals as made by boutique pedal makers have extra circuitry to shape the complete sound.
More Caline Guitar Effect Pedals:
About Caline Guitar Effect Pedals
The CP-43 Caline Pegasus Overdrive Pedal is one of many types of Caline Effect Pedals that are currently available on the website to review, compare prices and buy. The Caline guitar pedal brand was formed in 2010. Caline effect pedals are manufactured at the Caline Factory in Shenzhen, China. The Caline brand specialises in making low cost guitar effect pedals. The caline guitar effect pedal range is extensive and appeals to players who require a budget guitar effect pedal to perform to a reasonable standard without a hefty price tag. These pedals offer true bypass, full metal cases and represent excellent value for money. Use the link below to review the full list of Caline Guitar Effect Pedals.
Also See These Product Listings
About the YUMA GOLD Website
The YUMA GOLD website has been created by guitar players for guitar players. The main goal is to allow guitar players, and other musicians, to review, compare prices and then buy guitar gear and other music related products. By showing a range of suppliers it may be possible to save on your new guitar guitar gear. We can also test and review new guitar gear. The yumagold.co.uk website is expanding with new guitar and audio related products added daily. This includes product reviews, new product launches and guitar related news. To add content to our site review our marketing offers and use the contact form in the main menu.