The Danelectro 3699 Fuzz Octave Guitar Pedal is based on the FOXX Tone Machine pedal of the 70s. This legendary guitar pedal was designed by Danelectro owner Steve Ridinger and originally sold for $49, today coveted originals sell for over $600. This new guitar pedal version features the original circuit with some major tweaks. The new Danelectro 3699 Fuzz Octave features a significantly more pronounced octave effect, which is also now footswitchable, a warmer overall tone, and a mid-boost toggle switch to counteract the mid cut of the original FOXX pedal. The this is a quality designed and manufactured fuzz octave guitar pedal that will grace any guitarists pedal board, just plug your guitar into the Danelectro 3699 Fuzz and you will bask in a world of velvety vintage guitar tones. If you are wondering where the 3699 comes from then it is based on the old telephone numbering system where letters were used instead of numbers – 3699 = FOXX.
Building on over 50 years of design and manufacture of guitar products, the new Danelectro 3699 Fuzz Octave Guitar Pedal is a fuzz guitar pedal with an added octave effect. Taking the original FOXX Tone Machine design with delicious harmonics and an "out front" octave effect. By adjusting the settings there are wide range of guitar fuzz octave effects to play with.  See below the various prices and suppliers, for the Danelectro 3699 Fuzz Octave Guitar Pedal, click on the buy now button to place your order.
Buy Danelectro 3699 Fuzz Octave Guitar Pedal
£161.99
in stock
6 new from £161.99
as of 13/07/2021 18:55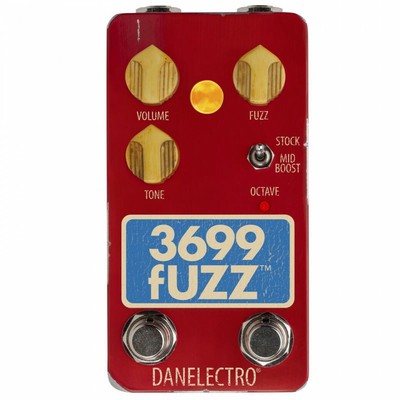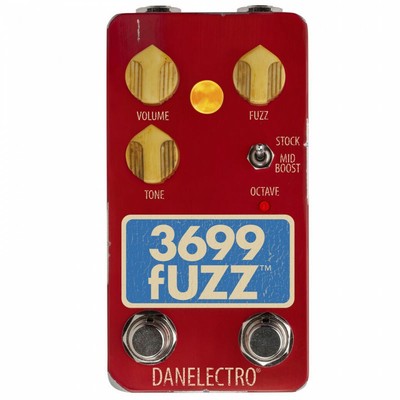 Get the latest special offers and reductions in guitar amp prices and effect pedal prices plus lots of other musical instrument gear by visiting the guitar price reductions page. By accessing lots of online stores our price review system is able to create a price list making it possible to see differences in the prices and any current savings. The yumagold.co.uk website includes many more Danelectro guitar pedals to consider buying plus other guitar effect pedal types and makes. Use the search icon above to search for your favorite effect brand or model. New products are added daily, to get notifications of new offers and savings join the mailing list.
About Fuzz Octave Guitar Pedals
A guitar fuzz pedal like the Danelectro 3699 Fuzz Octave Guitar Pedal takes the input guitar signal chain, boosts the gain and then generates a "fuzzy", "growling", or "gritty" tone. A fuzz guitar pedal can be used to replicate an over driven valve guitar amplifier. Guitarists playing electric blues originally obtained an distorted sound by turning up their vintage valve guitar amps to very high volumes, which caused the signal to distort and break up. Fuzz pedals were developed to replicate this sound without the need for high volume and are now a key part of many guitar styles including blues, rock, punk rock and heavy metal music. Prices for fuzz pedals range from very cheap to expensive however boutique fuzz pedal designs which are made to a higher specification and quality are the go to pedal for famous guitar players and are common on famous guitar player pedal boards. By adding the octave guitar effect to the pedal it creates a reflection, either one octave higher, one octave lower or both that are blended with the original and fuzz guitar signals to create a unique effect. The amount of adjustment of the fuzz and octave effects depends on the quality of the pedal. There are many fuzz octave guitar pedals on the market ranging from cheap to very high quality boutique designs.
More Danelectro Guitar Effect Pedals:
About Danelectro Guitar Effect Pedals
The Danelectro 3699 Fuzz Octave Guitar Pedal is one of many types of Danelectro pedals
that are currently available. The Danelectro Company was founded in 1947 in the USA. The original company went out of business in 1969 however the Evets Corporation purchased the brand name in the 1990's and have continued since then to design and import guitar gear and other musical instrument accessories. Initially selling imported copies of the old Danelectro guitar designs. Later newly designed Danelectro guitar pedals and small practice tube amplifiers were added to the range. After initially selling quite well, guitar sales slowed and Danelectro stopped selling their own branded guitars in 2004 to concentrate on the retro guitar pedal designs. In 2005 the new owners of Evets decided on a new marketing model for selling the guitars again and thee are now available to buy once more via online stores like Ebay and Amazon plus retail music stores. The Danelectro pedals are easily recognisable and have a unique retro styling, especially the Danelectro fab pedals and Danelectro Cool Cat pedals however the quality of the sound from some of these pedals was poor. Recently, Danelectro have designed a new range of boutique pedals that are made to a higher quality like the new Danelectro billionaire pedals.
Personally, I have some of the better quality Danelectro pedals from the mid-90s that I use every day. These include the Danelectro Dan Echo pedal, The Danelectro Fab Tone pedal, the Danelectro Daddy-O Distortion pedal and the Danelectro Slap Echo pedal which is perfect for those rockabilly and country guitar tones.. Use this link to view the full list of Danelectro Guitar Effect Pedals.
Latest Guitar Related Products
We are adding new guitar gear like the Danelectro 3699 Fuzz Octave Guitar Pedal and other related products, including video reviews of products, nearly every day or so. Bookmark the site or join the mailing list to keep up to date with new guitar products and guitar price reductions. Here are our latest posts.
The yumagold.co.uk website is expanding with new guitar gear and audio products being reviewed and added daily. If you would like to discuss adding your products to our database let us know by using the contact form in the main menu. The YUMAGOLD UK web site has been created for guitarists and other musicians to review and purchase all makes and types of guitar gear from suppliers based around the world. Our online system reviews and collects together the prices from different online retail stores and generates a list showing the latest prices, just review the prices, select the best offer and place your order. Use the top menu to navigate the full website and use the search field to find specific guitar gear. Take some time to read our guitar amp reviews and guitar pedal reviews as this will guide you to the sound you want to create.