The Eden WT DI Box Bass Guitar Preamp Pedal is much more than just direct input stompbox. The WTDI is a Eden preamp and DI built in a compact guitar pedal design suitable for stage and studio. Whether it's for the home studio, professional studio, live stage work or simply as a backup for your touring rig this is a simple yet effective tool for for bass guitar players taking the concept of DI boxes to a new level. The WTDI includes powerful tone shaping circuitry and and features a three stage EQ section with Bass Boost and Mid Shift buttons.
Review and compare prices for the Eden WT DI Box Bass Guitar Preamp Pedal below from various online stores and retailers. By collecting together prices from different online stores it may be possible to identify savings. Review the supplier that you are interested in and select the buy button to place your order and arrange delivery. This is one of many bass guitar pedals and bass chorus pedals that are available on the market.
Buy Eden I90 Bass Guitar Chorus Effect Pedal
£115.79
in stock
as of 17/06/2021 18:50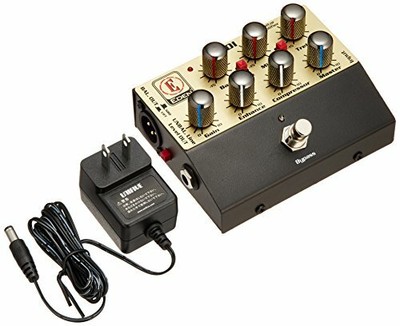 Review the product details and prices. You can place your order direct from this website, just click on the buy button to be taken to the merchant page where you can review the sale terms and arrange delivery. You can also review the last price reductions and sale items by visiting the price reductions page as shown in the top menu. Our online review system collects together all the current sale items and displays the guitar products in a list.
Guitar Pre-Amp Pedals Explained
A guitar pre-amplifier pedal is is used in the input section of the guitar signal chain to shape and boost the signal before it enters more effect pedals or the guitar amplifier input. There are many styles of guitar pre-amp pedal that have a specific style or tone. Generally features will include shaping the tone and also boosting the gain. In some ways they can also be similar to a booster pedal and may also be able to be used as a DI pedal.
More Eden Bass Guitar Pedals:
About Eden Bass Guitar Pedals
Manufactured since 1976 in the USA by Eden Amplification these pedals are designed specifically for use with the low frequencies of a bass guitar. Today Eden is internationally recognized as one of the premium brands in bass guitar amplification, providing bass players with products which can be found in studios, stages and stadiums across the world. The latest addition to the Eden Bass Guitar Pedal range is the Eden Astroflange, a specialist bass flanger pedal.
Bass Effect Pedals, Bass Guitar Pedals Explained
Bass guitar effect pedals are designed with special circuitry which can handle the low frequency sounds which are generated by heavy bass guitar strings. Shown below are a number of bass guitar effect pedals seperated into a number of popular categories.
Also Check out These Bass Guitar Products
Latest New Guitar Gear
About the YUMA GOLD Website
The YUMAGOLD UK web site has been created to allow musicians to review and purchase musical related products at the best prices from various online retail stores. The site is constantly expanding and new audio product reviews are added daily. If you are a retail outlet or manufacturer and would like to promote your products or brand on our site, review the marketing options and contact us by following the links in the main menu.