The Fender Champion 40 Combo Guitar Amplifier (40W) is simple to use and versatile enough for any style of guitar playing, theres a Champion amp thats right for you whether youre looking for your first practice amp or affordable stage gear. The 40-watt Champion 40 features a single 12" Special Design speaker, with great amp voices and effects that make it easy to dial up just the right soundfrom jazz to country, blues to metal and more.
The Fender Guitar Amplifier brand is well known by guitarists around the World, an American manufacturer of not only guitar amplifiers but quality stringed instruments and fender guitar pedals. Fender solid-body electric guitars and bass guitars are among the most recognized in the world including the Stratocaster and Telecaster, Precision Bass and Jazz Bass. Review the product details, and use the links shown to compare prices, suppliers and special offers for the Fender Champion 40 Combo Guitar Amplifier.
Buy Fender Champion 40 Combo Guitar Amplifier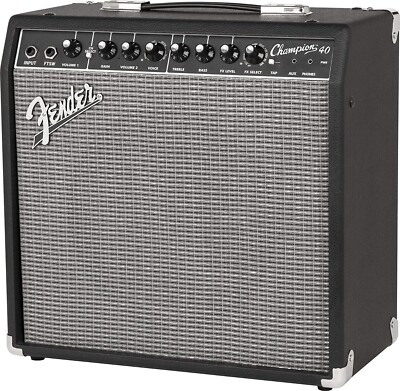 £169.07
in stock
4 new from £169.06
as of 16/07/2021 18:51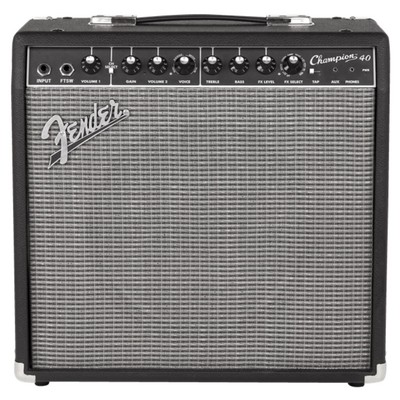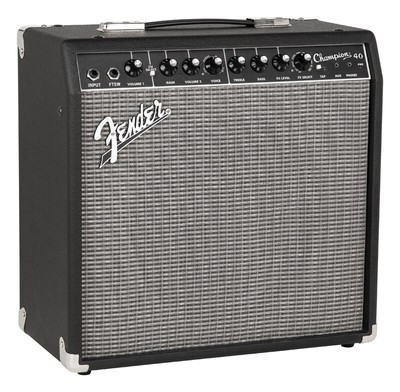 £175.00
in stock
6 new from £175.00
as of 16/07/2021 18:51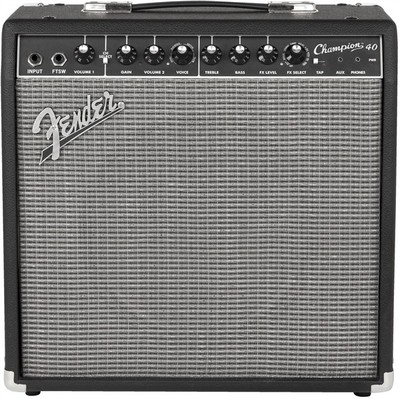 Review the product details and prices. You can place your order direct from this website, just click on the buy button to be taken to the merchant page where you can review the sale terms and arrange delivery. You can also review the last price reductions and sale items by visiting the price reductions page as shown in the top menu. Our online review system collects together all the current sale items and displays the guitar products in a list.
Fender Champion 40 : Solid State Combo Guitar Amplifier
Fender Champion Combo Guitar Amplifier 40W. This Combo style guitar amplifier includes the Amplifier and Speaker within the same cabinet. The amplifiers are powered by Solid State Technology (Transistors, IC,s and Diodes). This type of guitar amplifier became popular in the 70's due to the reduced manufacturing costs and size requirements over the previous valve technology. It is a matter of choice which is better however most professional guitar players prefer valve guitar amps for the unique tone and sonic qualities.
Our web site includes all styles of guitar amps and these are sorted into different manufacturing styles like valve combo amps, valve head amps, bass guitar amps, boutique guitar amps etc. Review our full list of types of guitar amps.
More Fender Guitar Amplifiers
Fender guitar amplifiers are famous around the world, being one of the first companies to mass produce guitar amplifiers in the 50s and 60s. The fender range includes many designs which are the choice of famous guitar players due to the vintage design style and the use of valve guitar amplifier technology. Valve guitar amplifiers have a special tonal quality and the old vintage models are now very expensive. Luckily Fender has replicated some of these early designs to make it easy now to buy fender guitar amplifiers.

More Fender Bass Guitar Amplifiers
You can now buy fender bass amps which are made with the same styling and quality and the guitar amplifiers.

More Fender Speaker Cabinets
For guitarists who buy a fender head style guitar amplifier then you will also need to buy fender speaker cabinets to match to the fender guitar amplifier.

buy fender effect pedals
and also
buy fender guitar amplifiers
.
View our complete range of Guitar Amplifiers
The YUMAGOLD UK website has been created for guitarists and other musicians to review and purchase all types of musical instrument equipment, at the best prices currently on offer from online suppliers based around the world. Review the product details, compare prices and shipping terms before placing your order via the website. By our system collecting, reviewing and displaying the product on sale from different suppliers you can obtain any potential savings that may be available. The online review system also generates a list showing the latest sale prices and price reductions on guitar amps, effect pedals and much more. Review the links and product types as shown in the top menu.
The yumagold.co.uk website is expanding with new guitar and audio related products added daily. This includes product reviews, new product launches and guitar related news. To add content to our site review our marketing offers and use the contact form in the main menu.