The Flat Light Flanger FX Pedal by the US boutique FX pedal manufacturer Old Blood Noise Endeavours explores choral pitch shifted flanging, from octave down to a shimmering octave up and in between. Cascading lines form a lush modulation that becomes metallic and resonant. The OBNE has three flanger guitar effect modes ; Detune, Resonate and Echo. Detune is a pitch shifted flanger where Shift ranges from an octave down to shimmering octaves up, with a range of slightly detuned sounds in the middle. Resonate creates a highly resonant flanger where Shift controls the amount of feedback. At low settings, lush chorus-like sounds are available. At high settings, metallic ringing frequencies spike with your signal. Echo is a flanger with multiple delays added. Shift sets the time of the delay, with the longest times all the way to the right; all the way to the left eliminates the delay entirely. In this mode, flanger depth is fixed and Depth controls resonance.
The Flat Light Flanger is a swirling spatial sonic experience from simple pitch shifting flanging, highly resonant metallic sounds and reverb-like delays. Review the product details, compare prices and suppliers for the Flat Light Flanger by Old Blood Noise Endeavours below. Our site includes many more Old Blood Noise Endeavors effect pedals plus there are other boutique flanger pedals to also consider.
Buy the OBNE Flat Light Flanger FX Pedal
£170.00
in stock
as of 05/08/2021 04:01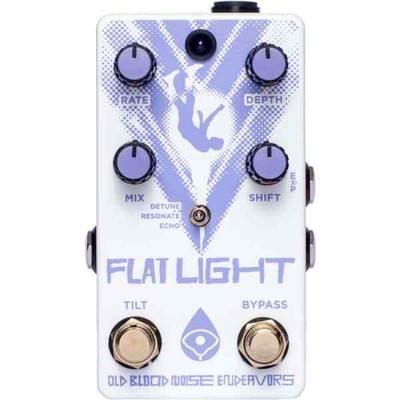 Review the product details and prices. You can place your order direct from this website, just click on the buy button to be taken to the merchant page where you can review the sale terms and arrange delivery. You can also review the last price reductions and sale items by visiting the price reductions page as shown in the top menu. Our online review system collects together all the current sale items and displays the guitar products in a list.
Flanger FX Pedals Explained
A guitar flanger effect pedal mixes two identical signals together, one signal delayed by a small and gradually changing period, usually smaller than 20ms. This produces a sweeping filter effect where peaks and notches are produced in the frequency spectrum of the guitar signal chain. Varying the time delay setting causes the two signals to sweep up and down the frequency spectrum. Part of the output signal is usually fed back to the input producing a resonance effect which further enhances the intensity of the peaks and troughs.
The phase of the fed-back signal is sometimes inverted, producing another variation on the flanger effect sound. Flanger effect pedals appear on most guitar pedal boards and are a favorite of rock and heavy metal guitar players. Some boutique flanger pedals that are worth reviewing and considering for your guitar rig includes the Japanese made Maxon FL-9 Analog Flanger Pedal and the US made Strymon Orbit Flanger Pedal. Some mid priced pedals to review include the Ibanez AF2 Airplane Flanger Pedal and a cheap flanger pedal review the Mooer Elec Lady Flanger Pedal and the JOYO Raptor Flanger Pedal.
More Old Blood Noise Endeavors Pedals
About Old Blood Noise Endeavors Effect Pedals
Old Blood Noise Endeavors guitar pedals are designed and manufactured in Oklahoma, USA. These are unique boutique guitar effect pedals offering a different look at trusted pedal styles. OBNE has a wide range of guitar effect pedals available that are versatile and functional. These high quality, US made, guitar pedals are included in our boutique effect pedal range and there are many other boutique guitar pedals to review and consider buying on the YUMAGOLD website. Click on the links above to each of the individual Old Blood Noise Endeavors pedals where you can review prices and select the best price offers.
More Guitar Related Products
We are adding new guitar gear and related products, including video reviews of products, nearly every day or so. Bookmark the site or join the mailing list to keep up to date with new guitar products and guitar price reductions. Here are our latest posts.
Guitar Gear Advertising Opportunities
The yumagold.co.uk web site is expanding with new guitar and musical instrument gear being added almost every day. We create reviews of new and existing audio products. If you are a musical instrument gear brand or retailer contact us using the form in the top menu to discuss our marketing options. Guitar marketing options include content writing, new product video reviews and much more. We can help expand your market, grow sales and build brand awareness.
About YUMAGOLD
The YUMAGOLD website has all the latest guitar and other musical instrument gear, both old and new, to review, compare prices, buy online and get the latest savings and special offers. We collect together the best prices and special offers that are currently on offer from various suppliers based around the world. Our unique price review system collects online prices together from multiple online stores and generate a list that shows any price offers and savings that exist. To find a product use the menu at the top or the search feature. The current top 35 savings are also included in the SAVE page in the top menu. Making a review of this page will open up a World of savings on top brand guitar amps, guitar effect pedals, guitar strings, amp repair valves, or tubes, lots of different guitar accessories and much more. To get the best deals on guitar gear review the SAVE button in the top menu, also if you join the mailing list using the link below you can register to receive a weekly special offers email.