The  Friedman Brown Eye Valve Head Guitar Amplifier is available in two versions, the 50W Friedman BE-50 and the 100W Friedman BE-100. The specification of the Friedman Brown Eye BE-50 Head has a 50W rating and includes 3 channels, 3 gain levels, an EQ section that has Treble, Middle, Bass, Thump and Presence. The tube compliment includes 4 x 12AX7 and 2 x EL34 which gives a very British guitar tone. This boutique guitar amp is hand made in the USA and has a foot-switch included. The specification of the Friedman BE-100 is similar with a 100W output.
Review the product details, and use the links shown to compare prices, suppliers and special offers for the Friedman Brown Eye Valve Head Guitar Amplifier below. You will often see a friedman valve head guitar amplifier and friedman speaker cabinet on the back line of famous rock guitarists, including Steve Stevens of the Billy Idol band. These boutique guitar amp are hand made in the USA and are made to a high specification. If you buy a Friedman guitar amp you will be tapping into the guitar riffing tone of a number of famous players. Friedman also make some of the best boutique guitar pedals.
Buy Friedman Brown Eye Valve Head Guitar Amplifier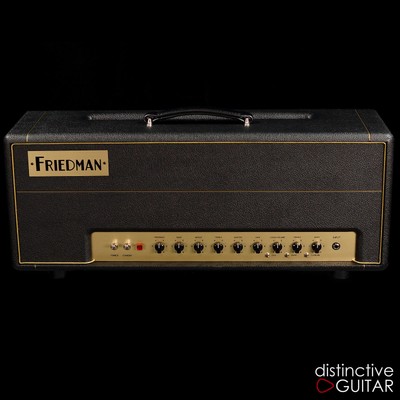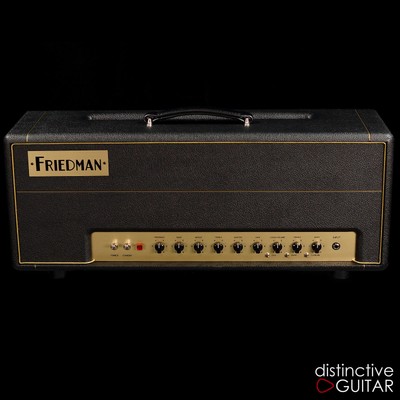 Review the product details and prices. You can place your order direct from this website, just click on the buy button to be taken to the merchant page where you can review the sale terms and arrange delivery. You can also review the last price reductions and sale items by visiting the price reductions page as shown in the top menu. Our online review system collects together all the current sale items and displays the guitar products in a list. On our website we access the separate web pages of different suppliers and list the products to make comparing the prices easy. You can then click through to the chosen supplier and buy the product, hopefully making a nice saving as well.
Video Review – Friedman Brown Eye BE-100
Review the video review of the Friedman Brown Eye BE-100 Tube Amp Head and speaker cabinet below. To buy this boutique styled guitar amo use the links above. Friedman amps are choice of players like Steve Stevens, Rock on!
Friedman Brown Eye : Valve Head Guitar Amplifiers
The Friedman Brown Eye Guitar Amp Head is a valve head guitar amp includes the power amplifier section within a cabinet which does not include a speaker. These vintage style guitar amplifiers have circuitry with valves (tubes) in the pre-amp and power output sections. Valve head guitar amps have a unique tone quality and are the favorite of most professional guitar players. Most valve guitar amplifier designs are based on classic valve amp designs, upgraded with modern fabrication methods. There are also boutique valve amps available custom made to individual players specs. When using a head guitar amplifier you will also need to buy guitar amp speaker cabinet however most manufacturers can supply a matched speaker cabinet if required.
Looking to buy the Friedman Brown Eye BE-100 · Guitar Amp Head?, check the product listing to compare prices and select the best deal. Also, look at the guitar amp price reduction page for special offers.
More Friedman Guitar Amplifiers and Speaker Cabinets
View our complete range of Guitar Amplifiers
The YUMAGOLD UK website has been created for guitarists and other musicians to review and purchase all types of musical instrument equipment, at the best prices currently on offer from online suppliers based around the world. Review the product details, compare prices and shipping terms before placing your order via the website. By our system collecting, reviewing and displaying the product on sale from different suppliers you can obtain any potential savings that may be available. The online review system also generates a list showing the latest sale prices and price reductions on guitar amps, effect pedals and much more. Review the links and product types as shown in the top menu.
The yumagold.co.uk website is expanding with new guitar and audio related products added daily. This includes product reviews, new product launches and guitar related news. To add content to our site review our marketing offers and use the contact form in the main menu. If you are a retailer or manufacturer of guitar gear and you would like to advertise your products on our web site, post a pr piece or submit a product review then firstly use the contact form and tell us about your business and how we can help. The advertising service includes advertising opportunities for guitar amplifiers, advertising opportunities for effect pedals, advertising opportunities for guitars and any other guitar related gear. Advertise your Effect Pedal with a dedicate product page, advertise your guitar amp with banner adverts, We have some great, competitive, advertising opportunities for guitar products.