The Fulltone Clyde Deluxe Wah Effect Guitar Pedal is designed around the iconic sounds of Clyde McCoy a big-band Trumpet Player in the '60s with a famous muted wah wah sound. A Vox Clyde McCoy wah wah pedal was used by Jimi Hendrix in 67 on the recording of Electric Ladyland. The Fulltone Clyde Deluxe Wah Effect Guitar Pedal is modeled on this classic guitar fx pedal using a tuned core handmade inductor. Review the full range of boutique wah pedals on our web site.
A guitar wah pedal is a unique effect which became popular in the 60s and is still used today.A wah pedal alters the tone and frequencies of the input guitar signal to create a distinctive sound, mimicking a human saying "wah-wah". The pedal rocking motion sweeps the peak response of a frequency filter up and down in frequency to create the sound. The standard wah effect is controlled by movement of the player's foot on a rocking pedal connected to a variable resistor however now there are now also a wide number of auto wah pedals available that can sweep up and down based on a control setting. Wah-wah effects are used when a guitarist is soloing, or creating a "wacka-wacka" funk-styled rhythm for rhythm guitar playing. Review the product details, compare prices and suppliers for the Fulltone Clyde Deluxe Wah Effect Guitar Pedal below. Also check out our list of the Top Ten Boutique Wah Pedals.
Buy Fulltone Clyde Deluxe Wah Effect Guitar Pedal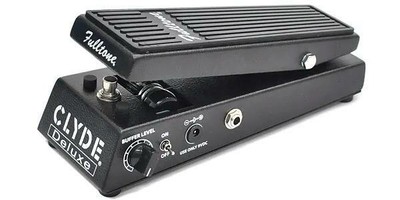 There are a number of wah pedals on the market, from very cheap to high quality boutique wah pedals. A famous wah pedal that was developed in the 60s was the Jim Dunlop cry baby wah wah and this pedal is still used by guitarists around the world. There are also a number of signature models that have been designed for famous players including the dunlop eddie van halen wah, dunlop jimi hendrix wah and dunlop slash wah pedal.
More Fulltone Pedals Guitar Effect Pedals
About Fulltone Pedals Guitar Effect Pedals
The Fulltone Clyde Deluxe Wah Effect Guitar Pedal is one of many types of Fulltone effect pedals
that are currently available to buy online from various retailers. The Fulltone Musical Products company was founded in 1993 by Michael Fuller who is also the guitar pedal designer and President. If you are looking for a US made quality guitar pedal that is built for life on the road then you cannot go wrong with a Fulltone pedal. This build quality is backed up by a 5 year guarantee. The statement on the Fulltone website says "All Fulltone pedals are designed, hand-built & tested by us at our shop in Southern California using top-notch components. Fulltone pedals were born out of a love for music, great gear, great tone, and a desire to make bullet-proof products".
Latest Guitar Related Products
We are adding new guitar gear and related products, including video reviews of products, nearly every day or so. Bookmark the site or join the mailing list to keep up to date with new guitar products and guitar price reductions. Here are our latest posts.
The yumagold.co.uk web site is expanding with new guitar products added daily. The YUMAGOLD web site has been created for guitarists and other musicians to review and purchase guitar gear and other musical instrument equipment, at the best prices currently on offer from various suppliers based around the world. By collecting the online prices together from various online retail stores we can generate a list showing the latest savings on guitar gear and price reductions for guitar amps, effect pedals, strings, vales, accessories and much more.