The Gallien Krueger 2001-RB Bass Rack Mount Amplifier is a beast of a bass guitar amp head. You get two channels and 1080 watts (dual 540W) of bone-crunching bass guitar tone and power, along with Bob Gallien's renowned "Valve Effect" technology. That gives you a tube-style sound that's warm and punchy with a super-fast transient response. Onboard, you have also got an active 4-band EQ, so you can shape your bass tone any way you want. Add in an effects loop, a direct output, a handy tuner output (with mute), a 50W horn bi-amp system, and the Gallien-Krueger 2001RB is ready for your next big gig.
Review the product details, and use the links shown to compare prices, suppliers and special offers for the Gallien Krueger 2001-RB Bass Rack Amplifier below. Our web site includes all styles of guitar amps sorted into different styles like valve combo amps, valve head amps, bass amps, boutique guitar amps etc. Review our full list of guitar amp types including more rack mounted guitar amps.
Buy Gallien Krueger 2001-RB Bass Rack Amplifier
£1,299.00
in stock
as of 05/05/2021 15:07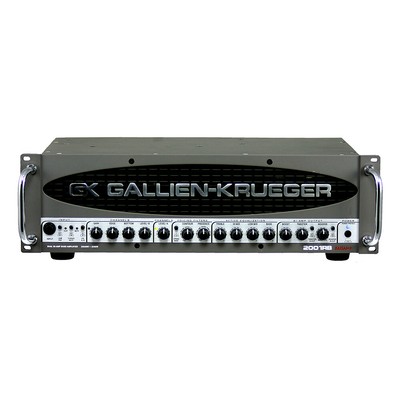 Review the product details and prices. You can place your order direct from this website, just click on the buy button to be taken to the merchant page where you can review the sale terms and arrange delivery. You can also review the last price reductions and sale items by visiting the price reductions page as shown in the top menu. Our online review system collects together all the current sale items and displays the guitar products in a list.
Rack Mounted Guitar Amplifiers
Gallien Krueger 2001-RB Bass Rack Amplifier. Rack mounted guitar amplifiers are designed to be used within a 19-inch rack cabinet and are then wired to multiple speaker cabinets as part of a PA system for live performances. Also known as an Amp Rack. The amplifiers are mounted by their face-plates in a "rack mount". A 19-inch rack is the most common enclosure used and this may also hold effects and music processors. This is the most common installation for music venues and concerts making it easy to move the equipment around and reducing set up time.
A musician may have his own Combo on stage however this is then picked up on a microphone  and fed to another set of rack amplifiers to boost the signal and ensure the correct volume for the audience.
More Gallien Krueger Bass Guitar Amplifiers
View more Bass Guitar Amps, Effects and Accessories
The YUMAGOLD UK website has been created for guitarists and other musicians to review and purchase all types of musical instrument equipment, at the best prices currently on offer from online suppliers based around the world. Review the product details, compare prices and shipping terms before placing your order via the website. By our system collecting, reviewing and displaying the product on sale from different suppliers you can obtain any potential savings that may be available. The online review system also generates a list showing the latest sale prices and price reductions on guitar amps, effect pedals and much more. Review the links and product types as shown in the top menu.
The yumagold.co.uk website is expanding with new guitar and audio related products added daily. This includes product reviews, new product launches and guitar related news. To add content to our site review our marketing offers and use the contact form in the main menu.