The Gear4Music S15A Acoustic Practice Combo Amp (15W) features simple but effective controls for sound shaping and with its closed back construction and portable aesthetics is an ideal amp for band practices or solo play. This is a cheap practice guitar amplifier perfect for beginners. Gear4Music is a well known brand supplying many guitar related products at competitive prices. The range includes a number of valve guitar amplifiers that have a great tone and are nicely priced within the range of most guitarists pockets. Review the other gear4music guitar amplifiers on the site.
Review the product details, and use the links shown to compare prices, suppliers and special offers for the Gear4Music S15A Acoustic Practice Combo Amp (15W) below. Also check out the other Practice Guitar Amplifiers on the site.
Buy Gear4Music S15A Acoustic Practice Combo Amp (15W)
£62.99
in stock
as of 22/06/2021 18:53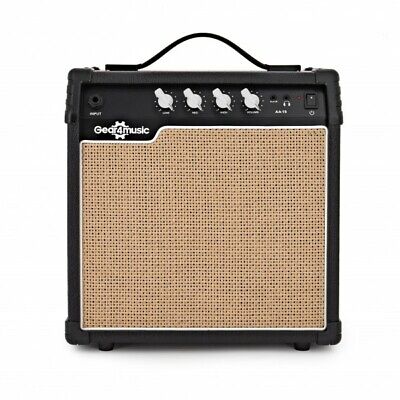 Review the product details and prices. You can place your order direct from this website, just click on the buy button to be taken to the merchant page where you can review the sale terms and arrange delivery. You can also review the last price reductions and sale items by visiting the price reductions page as shown in the top menu. Our online review system collects together all the current sale items and displays the guitar products in a list.
Acoustic Guitar Amps Explained
Gear4Music S15A Acoustic Practice Combo Amp (15W). Acoustic guitar amplifiers are designed for use with acoustic guitars and other acoustic instruments. They are designed with a frequency response with minimal coloration. To produce this relatively "clean" sound, these amplifiers often have a higher output power than would normally be required to ensure that no distortion is generated during use. Acoustic guitar amplifiers produce an uncolored, "acoustic" sound.
The amplifiers often come with a simple mixer, so that the signals from a pickup and condenser microphone can be blended, so a solo performer can connect the guitar and vocals to the same amplifier. It has become increasingly common for acoustic guitar amps to provide a range of digital effects, such as reverb echo, sound compression, digital delay and chorus. The higher quality designs will often include feedback-suppressing devices, such as notch filters or parametric equalizers.
More Gear4Music Guitar Amplifiers and Speaker Cabinets
Below we have selected a number of guitar amplifiers to consider. Click on the links to review prices and to buy gear4music guitar amps.

View our complete range of Guitar Amplifiers
The YUMAGOLD UK website has been created for guitarists and other musicians to review and purchase all types of musical instrument equipment, at the best prices currently on offer from online suppliers based around the world. Review the product details, compare prices and shipping terms before placing your order via the website. By our system collecting, reviewing and displaying the product on sale from different suppliers you can obtain any potential savings that may be available. The online review system also generates a list showing the latest sale prices and price reductions on guitar amps, effect pedals and much more. Review the links and product types as shown in the top menu.
The yumagold.co.uk website is expanding with new guitar and audio related products added daily. This includes product reviews, new product launches and guitar related news. To add content to our site review our marketing offers and use the contact form in the main menu.