The Hotone KOMP Guitar Optical Compressor Pedal SCS-1 is great for those twangy country notes and sustained distorted guitar solos. I love this pedal, the Hotone KOMP and it is a major part of my own pedal board and is used to shape my overall guitar tone, this pedal is on all the time and is set to 10. Another great feature I like is that the volume control adds an extra boost which has meant I do not need my booster guitar pedal anymore. This boutique style effect pedal is an optical guitar compressor pedal that provides a smooth compressed tone. The Hotone KOMP also features an additional SPARK button to add extra top end to the compressed sound. The Hotone KOMP includes a circuit which is optimized to the characteristics of the electric guitar and performs over the spectrum of different playing styles providing a compressed tone that is round and smooth, full of musicality, and retains the original guitar tone.
The Hotone KOMP Guitar Optical Compressor Pedal SCS-1 is part of the Hotone Skyline guitar pedals range. These mini guitar pedals have a wide range of features and are available at reasonable price levels. Compare price, suppliers and special offers for the Hotone KOMP Guitar Optical Compressor Pedal SCS-1 below. Also review the full range of Hotone guitar pedals and the Hotone guitar amps range, especially the Hotone Legacy 5W head amps.
Buy Hotone KOMP Guitar Optical Compressor Pedal SCS-1
£51.99
in stock
as of 08/06/2021 18:52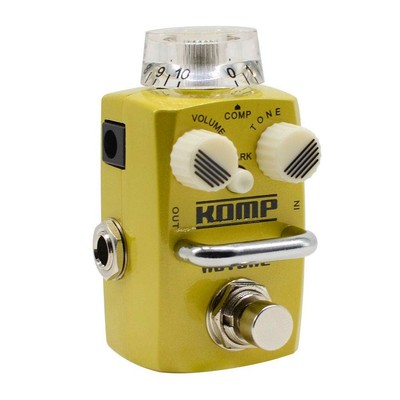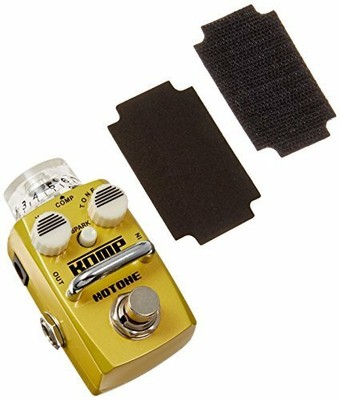 Get the latest special offers and reductions in guitar amp prices and effect pedal prices plus lots of other musical instrument gear by visiting the guitar gear price reductions page.By accessing online stores like Ebay, Amazon and others it is possible to see differences in the prices and the possible savings that can be taken.
Video Review of the Hotone KOMP Guitar Optical Compressor Pedal
I have included this video review below to give you an indication of the performance of the Hotone KOMP Guitar Optical Compressor Pedal SCS-1. To play the video review just click in the centre of the image shown below. This is a great little optical compressor pedal, so good I own one, it is on my pedalboard at the front after the booster, perfect for those compressed guitar tones like country, jazz and even southern rock, Sweet Home Alabama is spot on with this little pedal in the chain. If you are interested in buying the Hotone KOMP Guitar Optical Compressor Pedal SCS-1 please use the above merchant links to place your order as any sales help to pay the website management costs.
These guitar product video reviews tend to be created by independent guitar players, or staff at musical instrument retailers who do not have any particular allegiance to a brand so in some ways their opinions can help cut through some of the  glossy PR text that is provided by the product manufacturer. On our website we also have more guitar product reviews including guitar amplifier reviews and guitar pedal reviews that can help guide you towards that new piece of guitar gear.
About Hotone Guitar Effect Pedals
The Hotone KOMP Guitar Optical Compressor Pedal SCS-1 is one of many types of Hotone Guitar Pedals that are currently available. The Hotone Guitar Pedals feature reliable manufacturing methods and are made to a high specification and have both modern looks and features. These pedals are made by Hotone Audio, a Chinese Company specialising in the design and manufacture of guitar amplifiers and guitar pedals. The Hotone range includes many products which include modern features. The Hotone guitar effect pedals and the Hotone guitar amplifiers are available from a number of online and retail stores. The people behind the Hotone Audio brand are is a group passionate about music. And they have a highly experienced international team that combines professional expertise with artistic spirit. The Hotone mission is to provide you with the sonic tools you require to take your tone and inspiration to the next level.
Some interesting Hotone products to consider are the Hotone Nano Legacy guitar amplifiers, the Hotone Nano Legacy floor amplifiers, the Hotone multi effect pedals and the Hotone skyline guitar pedals. I personally own a number of Hotone products and I love the Hotone KOMP compressor pedal and I use this on my own pedal board.
About Guitar Compressor Pedals
A compressor pedal is most commonly used to enhance the sound of a clean guitar making the notes last longer and also suppressing sharp or loud notes, hence compressing them in to a set level making the sound smoother. Notes that are played with a clean guitar tone often lack sustain and begin to decay quickly after the guitar string is plucked. Using a compression pedal will also extend the life of the guitar note by raising the volume as it decays, and sometimes they are mixed together as compressor pedal and sustain pedal, squashing the loud notes and boosting the quiet notes. A compressor pedal, when used correctly is a valuable piece of equipment and is often found on most guitar player pedal boards.  There are a wide range of compressor effect pedals on the market from a large number of well known manufacturers. Check out popular examples of these pedals by leading companies like Joyo JF-10 Dynamic Compressor, and the Pigtronix Philosophers Tone. Cheaper models to consider are the Caline Hot Mushroom Compressor and the Donner Ultimate Compressor which do a job.
There are a wide range of boutique compressor effect pedals to choose from as well, however these are generally hand made and can be costly for instance check out the the Red Witch Seven Sisters Grace Compressor made by boutique effect pedal manufacturer Red Witch and the Dunlop CSP202 Compressor. Expensive but they are the choice of professional guitar players so must be good. Review the full range of compressor guitar effect pedals.
More Hotone Guitar Pedals to Consider
Latest Guitar Related Products
We are adding new guitar related products, including video reviews of products nearly every day or so. Bookmark the site or join the mailing list to keep up to date with new guitar products and guitar price reductions. Here are our latest posts.
The yumagold.co.uk website is expanding with new guitar and audio related products added daily. This includes product reviews, new product launches and guitar related news. To add content to our site review our marketing offers and use the contact form in the main menu. The YUMAGOLD UK website has been created as a one stop shop for guitarists and other musicians to review and buy guitar gear and other audio products. Check our our new product reviews and see the SAVE page in the main menu for price reductions and sale items. Our unique price review system collects prices from online music retailers and displays the prices in a list making it easy to review and buy your guitar gear at the best prices and suppliers online. Follow us on Twitter and get the latest offers and savings while there is stock available. See the Links page for details.