Review the product details, and use the links shown to compare prices, suppliers and special offers for the Hydra Boost Driver Guitar Pedal by Carl Martin featuring a small design size and 15dB low noise signal boost circuitry. The vintage styled Hydra Boost Driver Guitar Pedal by Carl Martin can be used to boost the signal into your guitar amplifier to create extra sustain or to drive your other effects pedals to extra sonic qualities. Made to boutique guitar effect standards and housed in a rugged casing with true bypass.
Buy Hydra Boost Driver Guitar Pedal by Carl Martin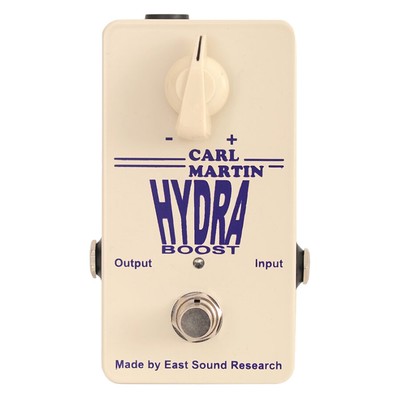 About Boost Driver Guitar Pedals
A boost pedal or driver pedal the simplest of all gain-based guitar pedals, boosters do exactly what they say. Taking the signal from the guitar pick up and boosting the volume of the signal. A boost pedal acts like an extra gain stage on the amplifier input. If used correctly a booster pedal can be a very versatile addition to your guitar pedal board adding extra flavor to the guitar signal chain and overall sound. Guitar booster pedals were among the earliest effect pedals to be launched, first being marketed as treble boosters. In the 60s, many famous players used treble boosters to push their valve driven Marshall guitar amps and Vox guitar amps to achieve a smooth, natural-sounding distortion. Afterwards overdrive pedals and distortion pedals were introduced giving extra functionality. Booster pedals have been used by players like Eric Clapton,  Jimmy Page and Brian May.
Choose your booster pedal wisely, cheap is not always the way to go as cheap booster pedals can result in a harsh distorted sound. Consider a mid-priced or more expensive boutique booster pedals as made by boutique pedal makers have extra circuitry to shape the complete sound. Popular booster pedals include the Boss DN-2 Dyna Drive Pedal, the Caline Purple Smoke Boost, the Empress Effects Multi-Drive, the Hydra Boost by Carl Martin, JHS Prestige Booster Pedal and the JHS Milkman Echo Boost.
More Carl Martin Guitar Effect Pedals to Consider
About Carl Martin Guitar Effect Pedals
The Hydra Boost Driver Guitar Pedal by Carl Martin is one of many Carl Martin pedals that are available to review and buy online from internet music stores. The Carl Martin brand was founded in 1990 as ESR a professional PA sound rental company that now supplies both guitar  pedals and guitar amplifiers. Shortly after the Carl Martin company began it started producing custom made audio equipment for the professional musicians. These early models were designed for a superior sound quality and with features that are not seen on other guitar effect pedals. The first Carl Martin guitar pedal, the Hot Drive'n Boost, was introduced in 1993. Since then Carl Martin have maintained a wide range of high quality of guitar gear products and now have around forty boutique guitar pedals that are sold online and in music stores. In 2005 the first handmade tube guitar amplifier the Custom Shop 50 was introduced.
Boutique Guitar Pedals
On the web site there are many Boutique Guitar Effect Pedals from suppliers around the World. Boutique guitar effect pedals are designed by smaller, independent companies. Boutique gear is often more expensive than mass-produced pedals however you will get a product made to a high specification in return, cheap guitar pedals can destroy a performance.
Also See These Product Listings
About the YUMAGOLD Web Site
The YUMA GOLD UK guitar gear price comparison web site has been created to allow musicians to review and purchase musical related products at the best prices from suppliers on sites like Amazon and Ebay. The site is constantly expanding and new products are added daily. If you would like to advertise your products on our site let us know by using the contact yumagold form.