The JHS Bonsai Screamer Overdrive Pedal is a truly remarkable tube screamer pedal that provides a wealth of guitar tones. In the late 1970's the overdrive pedal was perfected when Japanese engineers designed iconic green box sound that we now know as the heart and soul of so many of our favourite artists and recordings. The Bonsai is the JHS tribute to one of the greatest pedals ever created. Following in the steps of the JHS Muffuletta (2015), the new JHS Bonsai utilises a simple rotary knob to switch through nine classic, vintage, rare, or hard to find variations of the Tube Screamer. Each pedal was individually replicated in every aspect of the sound and feel of the original unit. Lets take a look at the 9 modes of the JHS Bonsai based on the 9 vintage pedals that were chosen – the OD-1 (77), TS-808 (79), TS-9 (82), MSL (85), TS-10 (86), OD-1 (89), TS-7 (99), Keeley Mod (02) and JHS Strong (08). With the JHS Pedal Bonsai you can get the classic sounds of nine different Tubescreamers in one pedal.
Review the product details, compare prices and suppliers for the JHS Bonsai Screamer Overdrive Pedal below, one of many quality JHS guitar pedals that are available to buy online. We collect together the prices from various online stores and present the prices in a list so that you can compare prices, and suppliers, so you can choose the best option. Just click on the buy button to place your order online and start saving on your guitar gear.
Buy JHS Bonsai Screamer Overdrive Effect Pedal
Review the product details and prices for the JHS Bonsai Screamer Overdrive pedal below.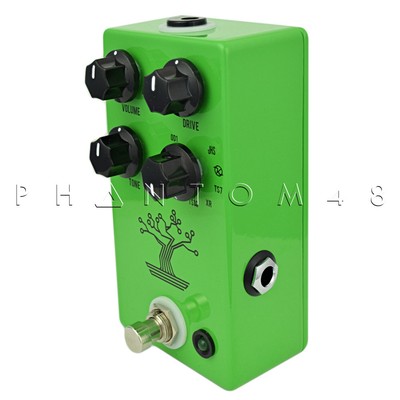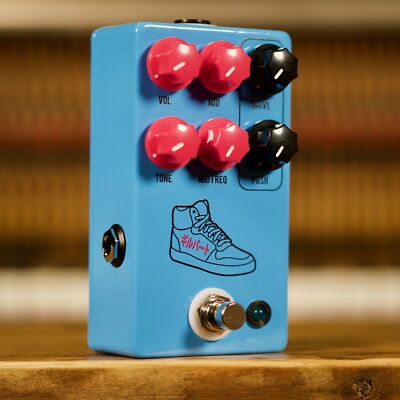 £211.00
in stock
1 used from £201.52
as of 07/07/2021 18:49
You can place your order for a new JHS Bonsai Screamer direct from this website, just click on the buy button to be taken to the merchant page where you can review the sale terms and arrange delivery of your new JHS pedal. You can also review the last price reductions and sale items by visiting the price reductions page as shown in the top menu. Our online review system collects together all the current sale items and displays the guitar products in a list.
About Tube Screamer Guitar Effect Pedal Designs
The JHS Bonsai Screamer Overdrive pedal above is modeled on the legendary Ibanez TS808 tube screamer which is an extreme overdrive pedal with the middle EQ section boosted. The ibanez TS9 tube screamer pedal and the ibanez TS808 tube screamer pedal are sought after vintage models which appear on the pedal boards of famous guitar players – the originals always have a green color. A tube screamer pedal takes the original overdrive pedal concept and takes it to a new level. The tube screamer is used to drive the input section of the guitar amplifier to extreme levels within a unique mid-boosted tone and is popular with blues and rock players. The "legendary" tube screamer has been used by countless guitarists to create their signature sound, and is one of the most successful, widely copied, and "modded" overdrive pedals in the history of the electric guitar. There are many versions of the tube screamer pedals on the market.
More JHS Pedals Guitar Effect Pedal Models
If the JHS Bonsai Screamer Overdrive pedal is not what you are looking for there are many more quality JHS effect pedals to consider, see the list below.
About Boutique JHS Guitar Effect Pedal Manufacture
The JHS Bonsai Screamer Overdrive Pedal is one of many types of JHS guitar pedals
that are currently available to buy online from websites. The JHS Pedals brand is the result of Josh Scott's desire to build quality guitar effect pedals that will stand out in an over-saturated market. Since 2007, JHS Pedals has evolved into an effects pedal company recognised world-wide. Josh's years of touring and session work along with eventual electronics tinkering bring the experience and knowledge of what musicians need and want in their rigs, and that is one of the core values that JHS was built upon. JHS Pedals are manufactured in the USA, with every JHS guitar pedal is assembled, tested, and shipped from the factory in Kansas City.
With a complete electric guitar, bass guitar, utility, and mod shop set up, JHS Pedals offers one of the broadest lines of guitar pedal effects on the market today. JHS Pedals value and commit to designing, populating, and assembling guitar pedals that sound excellent, are easy to use, and work correctly. View the full list of JHS guitar effects.
Boutique Guitar Effect Pedal Designs
Our website has many boutique guitar pedals like the JHS Bonsai Screamer Overdrive pedal from suppliers around the World like Carl Martin guitar pedals, Caroline Guitar Company pedals, Catalinbread pedals and Hotone guitar pedals plus many more. Boutique effect pedals are typically produced in small batch sizes. These high quality guitar pedals are the choice of many famous guitar players who need reliable products that will stand up to years on the road and will supply noiseless performance in the studio.
These custom made guitar pedals are mainly sold online, via mail-order, or may appear in a few music stores. Boutique gear is often more expensive than mass-produced pedals however you will get a product made to a high specification in return, cheap guitar pedals can destroy a performance. Along with boutique guitar pedals there are also a number of boutique guitar amp manufacturers like Mesa Boogie guitar amps, Friedman guitar amps and Supro guitar amps.
Review Boutique Guitar Amp and Effect Pedal Products
On the website there are many different makes and styles of boutique guitar amps and boutique guitar pedals available for you to review, compare prices and buy. Buying a boutique quality guitar product opens the door to the guitar sounds of many famous guitar players.
Latest Guitar Related Products
We are adding new guitar gear and related products, like the JHS Bonsai Screamer Overdrive pedal review above nearly every day or so. Bookmark the site or join the mailing list to keep up to date with new guitar products and guitar price reductions. Here are our latest posts.
The yumagold.co.uk web site is expanding with new guitar gear added daily, review the link in the top menu. The YUMAGOLD UK web site has been created for guitarists and other musicians to review and purchase all makes and types of guitar gear from suppliers based around the world. Our online system reviews and collects together the prices from different online retail stores and generates a list showing the latest prices, just review the prices, select the best offer and place your order. Use the top menu to navigate the full website and use the search field to find specific guitar gear. Take some time to read our guitar amp reviews and guitar pedal reviews as this will guide you to the sound you want to create.