The Laney AudioHub AH150 Multi-Input Combo Amp (150W-112) features 5 channels, 5-band EQ, digital delay effect and kickback cabinet design. The 150W output makes it ideal for duo's and small gigs, and the compact design makes it easy to transport. The Laney AudioHub AH150 is designed with solid state technolog;ly and is suitable for vocals and a wide range of instruments incl keyboards, guitar and electronic drums. The addition of an FX loop opens up a wide range of possibilities for shaping the output sound with an external pedal board. This is on top of the built-in effects which include reverb, chorus and multi fx. Plus there is a headphone socket with volume control for practice and setting up levels etc.
Review the prices for the Laney AudioHub AH150 Multi-Input Combo Amp (150W-112) below plus take a look at the other laney audiohub amplifiers in the range.
Buy Laney AudioHub AH150 Multi-Input Combo Amp (150W 1×12)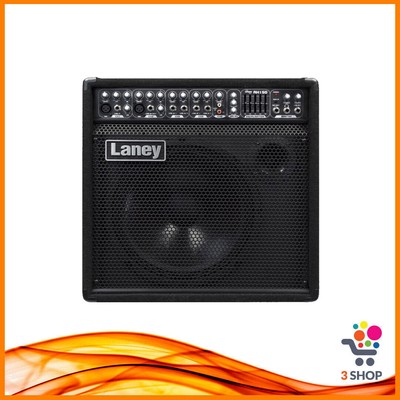 £348.95
in stock
2 new from £348.95
as of 08/07/2021 18:50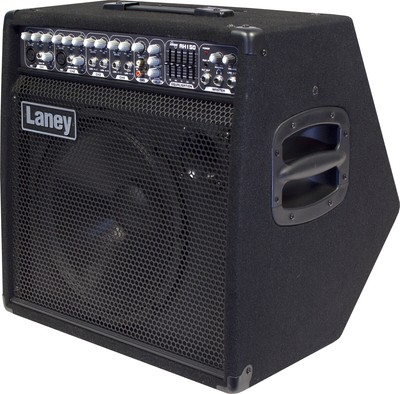 The Laney AudioHub Multi-Input Combo Amplifier Range
The Laney AudioHub AH150 is part of a much larger range of Laney AudioHub multi-input amplifiers with differing power outputs – 5W, 40W, 80W, 150W and 300W. See the full list below.
Laney AudioHub AH150 : Solid State Amplifiers Explained
The Laney AudioHub AH150 is a multi-input combo amplifier with solid state technology.  A combo amplifier design includes a speaker within the same cabinet as the power amplifier circuit making the amplifier portable.  Solid state guitar amplifiers are powered by IC's and Transistors and have a different overall tonal quality to that of older vintage valve guitar amplifiers. These amplifiers, when used correctly, have a cleaner tone and are perfect for clean sound styles like Jazz, Country and Acoustic. There are more solid state combo guitar amps to consider on the web site.
List of Laney Guitar Amplifiers
List of Laney Bass Guitar Amplifiers
List of Laney Speaker Cabinets
View the Complete Range of YumaGold Guitar Amplifiers
About the yumagold.co.uk web site
The YUMAGOLD UK website has been created for guitarists and other musicians to review and purchase all types of musical instrument equipment, at the best prices currently on offer from online suppliers based around the world. Review the product details, compare prices and shipping terms before placing your order via the website. By our system collecting, reviewing and displaying the product on sale from different suppliers you can obtain any potential savings that may be available. The online review system also generates a list showing the latest sale prices and price reductions on guitar amps, effect pedals and much more. Review the links and product types as shown in the top menu.