The Marshall Origin ORI5C Valve Combo Practice Amp features an all tube circuit which provides 5W of valve amp guitar tone into a single 8" speaker. Perfect for practice and the studio. The Marshall ORI5C was designed to be one of the most expressive practice valve amps available with incredible transparency and responsiveness. The single 8" Celestion speaker delivers 5W of pure Marshall valve amp tone, driven by a 12AX7 preamp and EL84 power valve. This single channel guitar amp can produce that classic "British" tonal range and rich harmonic tones. The Marshall ORI5C Origin Guitar Amp takes the very essence of what made the Marshall guitar amp brand so popular, and combines it with the latest modern technology to create the perfect blend of traditional and contemporary performance.
Compare Prices for Marshall Origin ORI5C Valve Combo Practice Amp below. This guitar amplifier is part of the Marshall Origin range of combo guitar amps with modern circuits and vintage valve amp tone. Our web site includes all styles of guitar amps sorted into different styles like valve combo amps, valve head amps, bass amps, boutique guitar amps etc. Review our full list of guitar amp types.
Buy Marshall Origin ORI5C Valve Combo Practice Amp (5W)
£199.00
in stock
2 new from £199.00
as of 30/07/2021 18:50
£199.00
£359.00
in stock
6 new from £199.00
as of 30/07/2021 18:50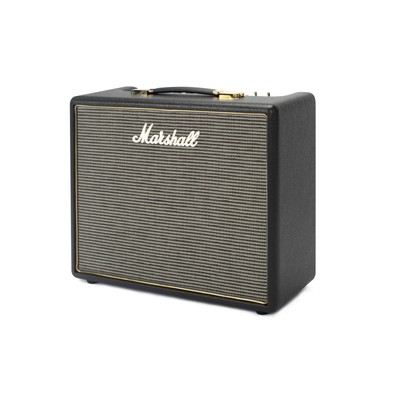 Review the product details and prices. You can place your order direct from this website, just click on the buy button to be taken to the merchant page where you can review the sale terms and arrange delivery. You can also review the last price reductions and sale items by visiting the price reductions page as shown in the top menu. Our online review system collects together all the current sale items and displays the guitar products in a list.
More Marshall Origin Valve Guitar Amps
Valve Combo Guitar Amplifiers
Marshall Origin ORI5C Valve Combo Amplifier (5W), is a combo style guitar amplifier which has the tube amplifier circuit board and the speaker within the same specially designed cabinet. The valve guitar amp circuit includes valves, or tubes as they are known in the USA, in both the pre-amplifier and the power output circuits.
Valve head guitar amps have a unique tone quality and are the favorite of most professional guitar players. Most valve guitar amplifier designs are based on classic valve amp designs, upgraded with modern fabrication methods. There are also boutique valve amps available custom made to individual players specs.
More Marshall Guitar Amplifiers
More Marshall Speaker Cabinets
View the Complete Range of Guitar Amplifiers
The YUMAGOLD UK website has been created for guitarists and other musicians to review and purchase all types of musical instrument equipment, at the best prices currently on offer from online suppliers based around the world. Review the product details, compare prices and shipping terms before placing your order via the website. By our system collecting, reviewing and displaying the product on sale from different suppliers you can obtain any potential savings that may be available. The online review system also generates a list showing the latest sale prices and price reductions on guitar amps, effect pedals and much more. Review the links and product types as shown in the top menu.
The yumagold.co.uk website is expanding with new guitar and audio related products added daily. This includes product reviews, new product launches and guitar related news. To add content to our site review our marketing offers and use the contact form in the main menu.