The Rocktron Utopia G100 Guitar Multi Effects Pedal Board has been loaded with 4 incredible channels of tone (Clean, Texas, British, and Mega) add to that a 4-band EQ and full catalogue of guitar effects and you will be rocking in no time. The specification for the Rocktron Utopia G100 is extensive starting with the the full bandwidth effects of a wah effect, phaser effect, signal compressor, chorus effect, flanger effect, pitch shifter, tremolo effect, echo delay and reverb effect. A Motorola DSP engine, stereo outputs, heavy-duty headphone output, and aux input for your iPod or other MP3 player are also included. The Rocktron Utopia G100 provides 128 preset sounds (64 factory presets and 64 user presets). And for those that like to create their own guitar sounds and effects the Rocktron G100 is fully programmable with an easy-to-read Cool Blue LCD display. Unlike a lot of guitar multi-effect pedals the Rocktron G100 is easy to use and operate plus there is a rugged metal chassis and a professional-grade expression pedal made from metal.
Other features of this boutique quality multi-effects unit include state-of-the-art Speaker Simulation for awesome recording, Variac tube-sag emulation, and the legendary Rocktron HUSH noise reduction circuitry. Rocktron guitar pedals are designed in the USA and are the choice of many famous guitar players, especially the Rocktron rack mounted units. Review the product details, compare prices and suppliers for the Rocktron Utopia G100 Guitar Multi Effects Pedal Board below.
Buy Rocktron Utopia G100 Guitar Multi Effects Pedal Board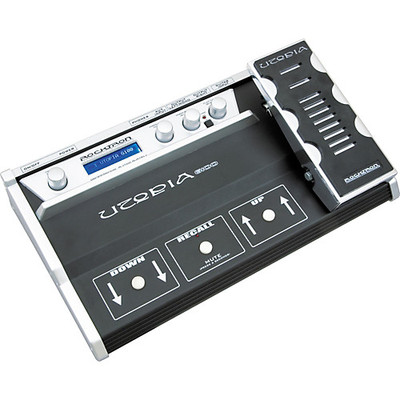 £149.00
in stock
as of 04/08/2021 01:24
Get the latest special offers and reductions in guitar amp prices and effect pedal prices plus lots of other musical instrument gear by visiting the guitar gear price reductions page. By accessing various online stores it is possible to see differences in the prices and the possible savings that can be taken.
About Guitar Multi-Effect Pedals
Guitar multi-effects pedals are a versatile piece of guitar gear equipment, when used correctly. They are designed with a large bank of standard guitar effects within a unit which typically is designed to look like a standard guitar pedal board. This eliminates the need to buy lots of separate guitar effect pedals, link cables, and guitar pedal power supplies etc. Higher quality multi-effects guitar pedal unit are normally programmable where once a effect chain has been designed and set up it can be saved into a slot in the memory and then easily recalled for use again in the future. Some high quality multi-effects units like the Roland multi-effect pedals are great for use in live performance as the effects can be set up and saved and recalled using a single foot switch unlike seperate effects where it would involve switching various effect pedals on and off.
To some people multi-effects units can be hard to set up however if the time is taken to learn the settings and how to program the unit they can be a very valuable piece of equipment for the guitar player. There are many styles and manufacturers of guitar multi-effects pedals on the market and there are separate versions for lead guitar multi-effects and bass guitar multi-effects.
More Rocktron Guitar Pedals and Rack Effects
About Rocktron Guitar Pedals and Rack Effects
Rocktron products are designed and manufactured in Battle Creek, Michigan, USA. The product range includes high boutique guitar stompboxes and rack mounted effect units, noise reduction units and rack mounted guitar amps. Launched in 1983, the first Rocktron product was the HUSH noise reduction. The HUSH technology was the first single-ended noise reduction designed specifically for guitar, now it is the industry standard, used by many guitar greats. Rocktron make guitar effects in both floor stompbox and rack mounted effect unit styles. Rocktron products have been used by guitarists including Dave Mustaine, Brian May, Prince, Slash, Steve Stevens, Eddie Van Halen, Steve Vai, Gary Moore and many more. Bands that have used Rocktron products include Judas Priest, Iron Maiden, Papa Roach, Black Sabbath, Queen, Pearl Jam, U2, Bon Jovi and the Red Hot Chili Peppers. Today Rocktron products can be found in studios and on stages around the World.
If you decide to buy a Rocktron Rack Mounted Unit or a Rocktron Guitar Effect you are tapping into high quality products used by professional guitar players who are loyal to the brand, using multiple Rocktron items in their live and studio setups.
Latest Guitar Related Products
We are adding new guitar related products, including video reviews of products nearly every day or so. Bookmark the site or join the mailing list to keep up to date with new guitar products and guitar price reductions. Here are our latest posts.
The YUMAGOLD UK website is expanding with new guitar and related audio products being added almost daily. Get reviews, prices and savings on the latest guitar gear. If you would like to discuss our marketing packages and add your new guitar and brand to our site use the links in the main menu to contact us. The YUMAGOLD website has been created for guitarists and other musicians to review and purchase musical instrument and audio gear. Our unique pricing system reviews the prices on offer from online retailers and displays the prices in a list allowing you to review the best price and place your order online. For more savings visit the SAVE page in the main menu and join the mailing list to get the latest email offers and savings.