The Stagg 20-GA Electric Guitar Amplifier Combo (20W-108) is packed full of great features including volume and gain control, 3-Band EQ  with bass, middle and treble, distortion overdrive switch, headphone mini-jack output and a Stereo Jack input for a CD or MP3 Player. The Stagg 20-GA model is the ideal, affordable choice for entry-level guitarists and young students requiring a practice guitar amp for home use.
Review options, compare prices, suppliers and special offers for the Stagg 20 GA Guitar Amplifier Combo below. The web site has many types of guitar amplifier to consider.
Buy Stagg 20-GA Electric Guitar Amplifier Combo (20W-108)
£94.07
in stock
4 new from £94.07
as of 11/06/2021 18:51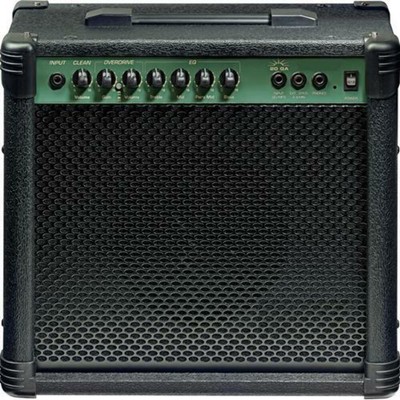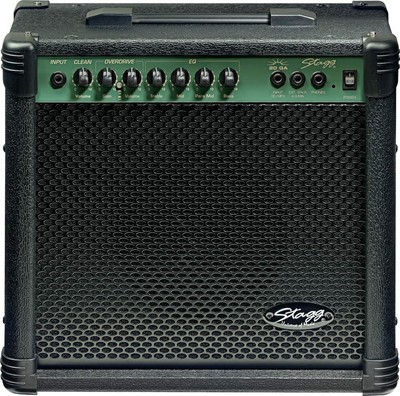 Review the product details and prices. You can place your order direct from this website, just click on the buy button to be taken to the merchant page where you can review the sale terms and arrange delivery. You can also review the last price reductions and sale items by visiting the price reductions page as shown in the top menu. Our online review system collects together all the current sale items and displays the guitar products in a list. By accessing lots of online stores our price review system is able to create a price list making it possible to see differences in the prices and any current savings.
Stagg 20-GA : Solid State Combo Guitar Amplifiers
Stagg 20-GA Guitar Amplifier Combo. This Combo style guitar amplifier includes the Amplifier and Speaker within the same cabinet. The amplifiers are powered by Solid State Technology (Transistors, IC,s and Diodes). This type of guitar amplifier became popular in the 70's due to the reduced manufacturing costs and size requirements over the previous valve technology. It is a matter of choice which is better however most professional guitar players prefer valve guitar amps for the unique tone and sonic qualities.
Our web site includes all styles of guitar amps sorted into different styles like valve combo amps, valve head amps, bass guitar amps, boutique guitar amps etc. Review our full list of guitar amp types.
More Stagg Guitar Amplifiers and Speaker Cabinets
View the Complete Range of Guitar Amplifiers
The YUMAGOLD UK website has been created for guitarists and other musicians to review and purchase all types of musical instrument equipment, at the best prices currently on offer from online suppliers based around the world. Review the product details, compare prices and shipping terms before placing your order via the website. By our system collecting, reviewing and displaying the product on sale from different suppliers you can obtain any potential savings that may be available. The online review system also generates a list showing the latest sale prices and price reductions on guitar amps, effect pedals and much more. Review the links and product types as shown in the top menu.
The yumagold.co.uk website is expanding with new guitar and audio related products added daily. This includes product reviews, new product launches and guitar related news. To add content to our site review our marketing offers and use the contact form in the main menu.