The SubZero Saturn Tube Guitar Amplifier Range includes a set of nononsense valve guitar amplifiers that are available at affordable prices. Choose from 5W valve combo practice amplifiers to 50W stack setup with all tube head amplifier and celestion speaker cabinet. Ifyou looking for a tube guitar amp without all the bells as whistles then the SubZero Saturn range could be just what you need.
Perfect for Country, Blues, Rock, Jazz and Metal. Just plugin, adjust the controls to dial in the tond you requireand start jamming. Review the products in the SubZero Saturn Amp range below. Choose the model of intersdt and click on the link to be taken to a oage where you can review the specification and place your order.
Buy SubZero Saturn Tube Guitar Amplifier Range
SubZero Saturn Tube Guitar Amplifier Range – Price Analysis
All prices mentioned above are in British pound.
This product is available at eBay, Amazon.co.uk.
At ebay.co.uk you can purchase SubZero Saturn-5V Celestion Super 8 Tube Amp Combo Black for only £171.99
The lowest price of SubZero Saturn-50VR Tube Amp 2 x 12'' V30 Stack was obtained on 12/10/2021 18:51.
---
Review Lowest Priced SubZero Saturn Tube Guitar Amplifier (on Amazon)
SubZero Saturn-5V Tube Guitar Amp with Celestion Super 8 Speaker
Features
No-Nonsense Valve Guitar Amplifier
Lightweight and Highly Portable
Immaculate Reproduction Delivered by Celestion Super 8 Speaker
Highly Adaptable - Switch Between 5W And 1W
2 Year Warranty
Review Lowest Priced SubZero Saturn Tube Guitar Amplifier (on Ebay)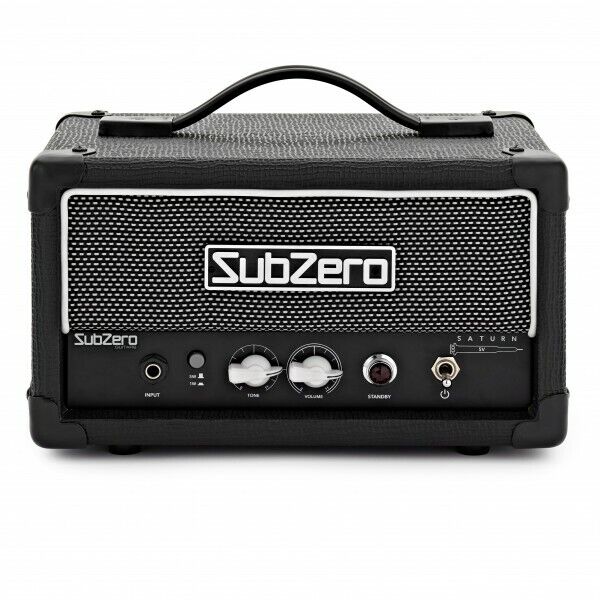 SubZero Saturn-5V Tube Amp Head Black
The SubZero Saturn-5V Tube Amp Head offers huge tube tones in a compact portable frame. Simplicity is a huge asset for the musician that values a no-frills experience- just plug in and instantly lift your tone. Thanks to its all analog design youll maintain the highest signal integrity ensuring larger than life tones without any compromises. Whether you desire sparkling clean tones or saturated break-ups the Saturn-5V is the perfect choice for those who wish to enter the world of valve amplifiers. Suitable for stage and studio applications youll be able to choose between high and low power outputs at the touch of a button allowing you to achieve cranked tones at lower volumes. The Saturn-5Vs durable design ensures it can withstand the rigours of continued use whilst providing a solid and consistent performance at all times.
---
Review the Latest Guitar Products
We are adding new guitar related products like the SubZero V15B Vintage 15W Practice Bass Practice Amp to our price comparison website everyday. Check out the latest guitar products that we have added below.
The best way to stay up to date with the latest offers and price reductions on guitar gear is to join the mailing list. Use the contact form shown in the main menu.
Review the Latest Guitar Gear Savings
Our website includes unique price comparison software that monitors the prices of all the guitar products that are displayed and creates a daily price reduction list. These guitar gear savings and discounts are time limited. If you see a saving that is on a guitar product you are interested then you are best to buy before stocks run out. Below is an example of a current guitar gear that is on offer with a reduced price or saving. For the full savings list see the main menu.
For the latest top 35 guitar amplifier and guitar pedal savings see the SAVINGS page in the main menu.
Selected Products from the YumaGold Website
The YUMAGOLD UK website is expanding with new guitar and related audio products like the SubZero V15B Vintage 15W Practice Bass Practice Amp being added almost daily. Below is a selection of the types of products we are adding. The website is set up with reviews, prices, savings and the latest guitar product releases.
If you are a guitar product retailer or manufacturer and would like to discuss our marketing packages so that you can add your new guitar and brand to our site then use the links in the main menu to contact us.
The YUMAGOLD website has been created for guitarists and other musicians to review and purchase musical instrument and audio gear.