The Tonebone BigShot ABY Guitar Effects Switcher by Radial is a compact ABY switcher that enables you to either switch between two amplifiers or combine the signal when you want both amps to play at the same time. This is a true-bypass ABY switcher equipped with a separate tuner out which feeds your tuner for constant monitoring while keeping it out of the signal chain. Should you experience hum and buzz problems due to ground loops, the BigShot ABY comes to the rescue with a ground lift switch and built-in isolation transformer. There is an option to toggle the polarity of the second amplifier to ensure both amps play in absolute phase. The compact design makes the Tonebone BigShot ABY Guitar Effects Switcher by Radial ideal for guitar pedal boards where space is limited. No need for power supply.
Review options, compare prices, suppliers and special offers for the Tonebone BigShot ABY Guitar Switch Pedal by Radial below, part of the high quality Radial Tonebone range of boutique guitar pedals.. The web site has many more Radial Tonebone pedals to choose from and many other types of guitar effect pedal for you to consider. Plus check out the other boutique booster pedals that are available on the site.
Buy Tonebone BigShot ABY Guitar Effects Switcher
£91.39
in stock
as of 18/07/2021 18:58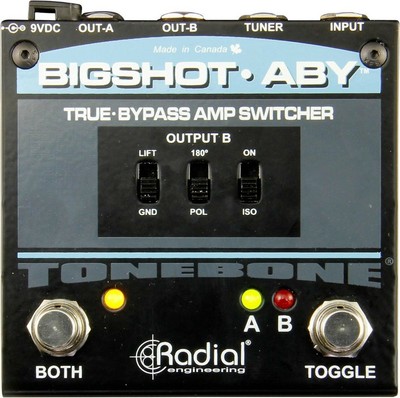 Review the product details and prices. You can place your order direct from this website, just click on the buy button to be taken to the merchant page where you can review the sale terms and arrange delivery. You can also review the last price reductions and sale items by visiting the price reductions page as shown in the top menu. Our online review system collects together all the current sale items and displays the guitar products in a list. By accessing different online stores it is possible to see variations in prices and possible savings. Just click on the buy button and place your order. Review the most popular effect styles covered like drive booster pedals, overdrive pedals, octave pedals, fuzz pedals and more.
About ABY Switching Pedals
A ABY Switch pedal is used to divert the signal chain from the guitar to two separate paths. For instance it could be used to direct the guitar to two different guitar amplifiers or to two different guitar effect pedal loops. You can also use the pedal the other way to have two inputs fed to one output. There are many different types and makes of ABY switch pedals and they can offer various things to the user therefore it is best to read the description before buying to ensure it will do as you require.
More Radial Tonebone Guitar Pedals
About Radial Tonebone Guitar Pedals
Tonebone guitar pedals are made by Radial Engineering from a manufacturing base in Canada. Radial Engineering made products have graced the stages and studios of many of music's biggest acts including Rush, U2, Bruce Springsteen, AC/DC, Billy Joel, Paul McCartney and many others. With a longstanding reputation for bringing reliable audio products to the market, the Radial Tonebone pedals can be seen on stages and in studios world-wide. Since small beginnings in 1992, Radial Engineering now employs over 100 employees and boasts in-house research and development, engineering and production departments. The Radial Tonebone guitar pedals range includes many innovative products that are made to a high quality, with special circuitry and special components. The Tonebone pedals are featured on many famous guitar player pedal boards and have a reputation for reliability and are able to survive a life on the road.
Boutique Guitar Pedals
The Radial Tonebone guitar pedal range is included in out list of custom made guitar pedals from suppliers around the World. Custom made or boutique guitar pedals are generally designed and manufactured by small, independent companies and are produced in small batch quantities. Some are even be hand-made, with hand-soldered connections. These boutique pedals are mainly sold online, via mail-order, or sold in a few music stores. Custom made pedals are more expensive than mass-produced pedals due to the hand made manufacturing process and the higher-quality components that are used. There is also investment in creating innovative circuits and design features. Boutique guitar pedals feature on many famous guitar player pedal boards as they require studio quality products that will perform week after week on the road. If you are looking for a quality guitar pedal that will compliment your guitar performance then check out companies like Empress Effects pedals, DR J guitar pedals, DOD guitar pedals and CKK guitar pedals.
More Guitar Related Products
We are adding new guitar gear and related products, including video reviews of products, nearly every day or so. Bookmark the site or join the mailing list to keep up to date with new guitar products and guitar price reductions. Here are our latest posts.
Guitar Gear Advertising Opportunities
The yumagold.co.uk web site is expanding with new guitar and musical instrument gear being added almost every day. We create reviews of new and existing audio products. If you are a musical instrument gear brand or retailer contact us using the form in the top menu to discuss our marketing options. Guitar marketing options include content writing, new product video reviews and much more. We can help expand your market, grow sales and build brand awareness.
About YUMAGOLD
The YUMAGOLD website has all the latest guitar and other musical instrument gear, both old and new, to review, compare prices, buy online and get the latest savings and special offers. We collect together the best prices and special offers that are currently on offer from various suppliers based around the world. Our unique price review system collects online prices together from multiple online stores and generate a list that shows any price offers and savings that exist. To find a product use the menu at the top or the search feature. The current top 35 savings are also included in the SAVE page in the top menu. Making a review of this page will open up a World of savings on top brand guitar amps, guitar effect pedals, guitar strings, amp repair valves, or tubes, lots of different guitar accessories and much more. To get the best deals on guitar gear review the SAVE button in the top menu, also if you join the mailing list using the link below you can register to receive a weekly special offers email.