Review below the valves, or tubes, that are included in the Replacement Valve Kit for Traynor YCS50 (3 x ECC83 2 x 6L6GC). These guitar amplifier tube sets, or valve kits, include all of the different tubes that are required to repair, or service, your valve guitar amplifier and bring it back to peak performance. As guitar amplifier valves deteriorate with use, the tonal quality will be affected gradually over time. Buying a single guitar amplifier power valve can be a false economy, most, high power valve guitar amps need matched power valves to work correctly, buying a full guitar amp tube set, including the pre-amplifier valves and power output valves solves this problem, see link at bottom of page.
If the power valves are not matched it may cause hum, noise, distortion and reduce the life of the other valves. Read the installation manual supplied with your guitar amplifier before changing guitar amp valves. Click on the links at the bottom of the page to buy full guitar amp re-valve sets, tube kits, for your amplifier.
Buy Replacement Valve Kit for Traynor YCS50 (3 x ECC83 2 x 6L6GC)
£102.20
in stock
as of 22/07/2021 01:05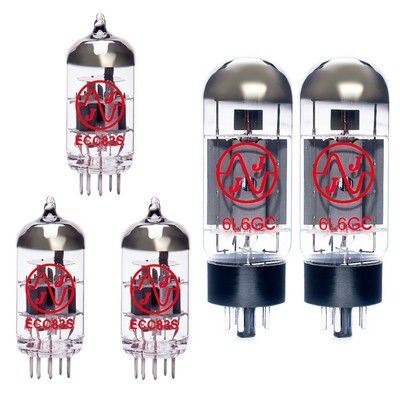 Click this link to see the full list of Traynor amp tube sets (full valve amp tube kits).
The Replacement Valve Kit for Traynor YCS50 (3 x ECC83 2 x 6L6GC) Includes
Use these links to buy separate pre-amplifier valves, matched power valves and rectifier valves.
Buying Full Guitar Amp Valve Kits
All valve head guitar amps and valve combo guitar amps include a mixture of pre-amplifier valves, power output valves and rectifier valves (or tubes in the USA). The typical life of a guitar amplifier valve is around 1000 hours. As the tubes operate together, the performance of all the guitar amp tubes will degrade with time and is use. To restore your valve amp to its best buy a full guitar amp valve kit.
Buying a full guitar amplifier re-valve kit will ensure that your valve guitar amp will sound like it did when it was new. Most valve guitar amplifiers have matched valves in the output circuit. It can be a false economy to buy a single valve and then adding it in to the valve guitar amp circuit. Depending on the guitar amplifier circuit it could include both matched pre-amplifier valves and matched power output valves in the circuit, check the manual. To buy guitar amp valves and tube sets use the links below. If unmatched valves are used in the amplifier power output circuit it is likely that the output sound will be poor. If the valves are matched with the same gain characteristics, they will draw the same current and cancel out any mains hum and other noise. If they are not matched there will be a mismatch in the current drawn, resulting in hum and one valve getting much hotter than the others, reducing the life.
Buying a full guitar amplifier re-valve kit, tube set, will ensure you have all the parts to restore your valve guitar amplifier to its best. Use the links that are shown below to buy guitar amplifier valves and tubes. Matched tube sets have been individually tested for the same bias current, and gain, under identical voltage conditions. The tubes are then put with other tubes of the same characteristics making a matched valve set.
Buy Guitar Amplifier Valves
Tips on Changing Guitar Amplifier Valves
If you are unsure about how to change the valves or how to maintain your valve guitar amplifier at optimum performance levels read our guide to replacing guitar amp valves.
More Traynor Replacement Valve Kits
Review the list below and click on the link to be taken to a page where you can review the prices and buy full guitar amp re-valve sets for your tube guitar amplifier. If your valve amp is not in the list contact us using the link in the top menu and we will add your model to the list